Dr. Yong Hur, DMD - Periodontist
"I strive to provide my patients with a seamless transition to implants" - Dr. Yong Hur, DMD
Dr. Yong Hur is a respected periodontist who takes great pride in meeting the varied needs of his patients. In addition to practicing out of the Stoneham office, Dr. Hur is currently an assistant professor of periodontology at Tufts University School of Dental Medicine. He is a diplomate of the American Board of Periodontology and is a recipient of the fellowship award sponsored by the American Academy of Periodontology Foundation.
After receiving his degree from the College of Dentistry at Wonkwang University in South Korea in 2001 and working in general dentistry, he specialized in periodontology at Tufts University School of Dental Medicine. He completed his certification in 2008 and his master's degree in biology in 2009.
Dr. Hur is a member and peer-reviewer for the two main publications of the American Academy of Periodontology: The Journal of Periodontology and Clinical Advances in Periodontics. He is a published clinician and particularly active in the clinical research of Periodontology. Outside of the office, Dr. Hur enjoys traveling with his lovely wife, Yumi, who is also a periodontist.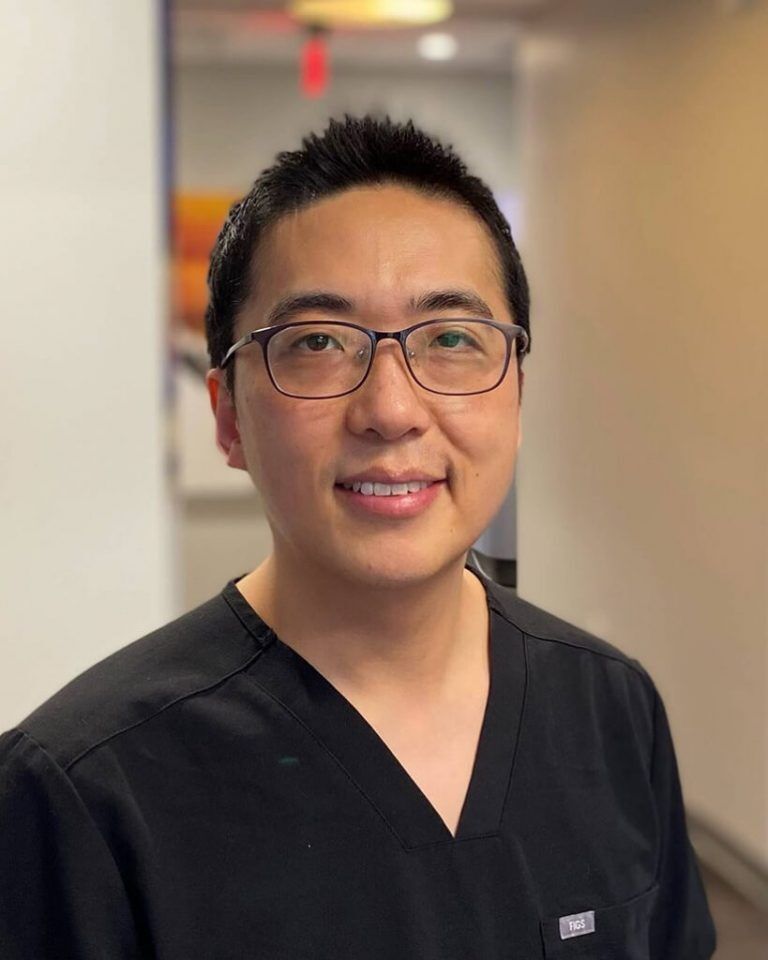 Yong Hur, DMD
Periodontal Specialist Stoneham, MA
Frequently Asked Questions:
When you have lost and are missing a tooth, the bone around the site of the missing tooth begins to resorb, especially within the first few years. The gap created from the missing tooth will also cause the neighboring teeth to drift into the empty space, changing your occlusion or way that you bite. Implants are the ideal treatment for missing teeth. The implants are placed within the empty space to maintain bone density, maintain occlusion, and give you the look and, more importantly, function of the tooth you once used to have. With good care, implants are designed to be long-lasting and serve as a permanent replacement for a missing tooth.
Am I a Good Candidate for Dental Implants?
Regardless of their age, most people are a good candidate for dental implants so long as they are in good physical and dental health, and have a desire to replace a missing tooth. In cases where a tooth has been missing for quite some time, there may already be bone loss in the area which may require some pre-surgical bone grafting to improve the rate of success for dental implant placement. One factor that is likely to decrease the success of dental implants is if the patient is a smoker. If you are trying to decide if dental implants are good for you, our doctors are happy to consult with you and discuss treatment plans and options. Please call the office at (781)438-0345 for your complimentary consult for dental implants to determine your custom treatment plan.
What Is the Process for Receiving Dental Implants?
The first step in the dental implant process involves a complimentary consult to determine the appropriate treatment plan for each individual patient. Our doctors will assess whether or not the tooth being replaced is already missing or needs to be extracted. If the tooth is already missing, we must assess bone levels in the area to determine if bone grafting is necessary. If the tooth is still present in the mouth, we must assess whether or not it is appropriate to complete the extraction and dental implant placement in one or multiple appointments. Factors such as minimal bone loss and if the area is free of infection will influence this decision. Only when all of the factors are ideal, can the implant be placed at the same time as the extraction. Otherwise, it is best to perform the extraction and implant in a two-phase approach where we will first extract the tooth and wait for implant placement at a later time to minimize any complications.
After the implant is placed within the bone, a healing abutment is placed into the opening to allow the area to heal around the implant and integrate into the surroundings, which may take approximately 4-6 months. Therefore, patients do not leave their first visit with a crown or a "tooth" in the site of the implant. Once healing is confirmed, the patient will come back for the fabrication of a custom crown that will be screwed in via implant attachments to complete the overall dental implant process.
I Have Dentures, Could I Benefit from Dental Implants?
Dental implant can dramatically improve your experience with dentures. Traditional dentures rely on the existing bone for stability; however, over time, we know that the bone resorbs, thereby decreasing the comfortability of the denture. Implant based dentures involve multiple implants which snap into the bottom of the implant-supported denture to help keep it in place opposed to traditional dentures which are held in place with adhesive. Most patients see improvement in their comfort level with implant-supported dentures in comparison to traditional dentures. Implant-supported dentures are similar to traditional dentures in the sense that they can, and should, be removed daily to clean both the denture itself and gum area around the implants.
When the dental implant procedure is performed by a doctor who is a highly skilled and qualified periodontal surgeon, like Dr. Hur, the implant surgery itself should not hurt at all. Patients may experience some post-op soreness and discomfort, but this is usually minimal and easy to manage following our office post-op instructions. If you are concerned about experiencing pain or discomfort, our team is happy to answer any questions you may have.
Here's what our patients are saying ...