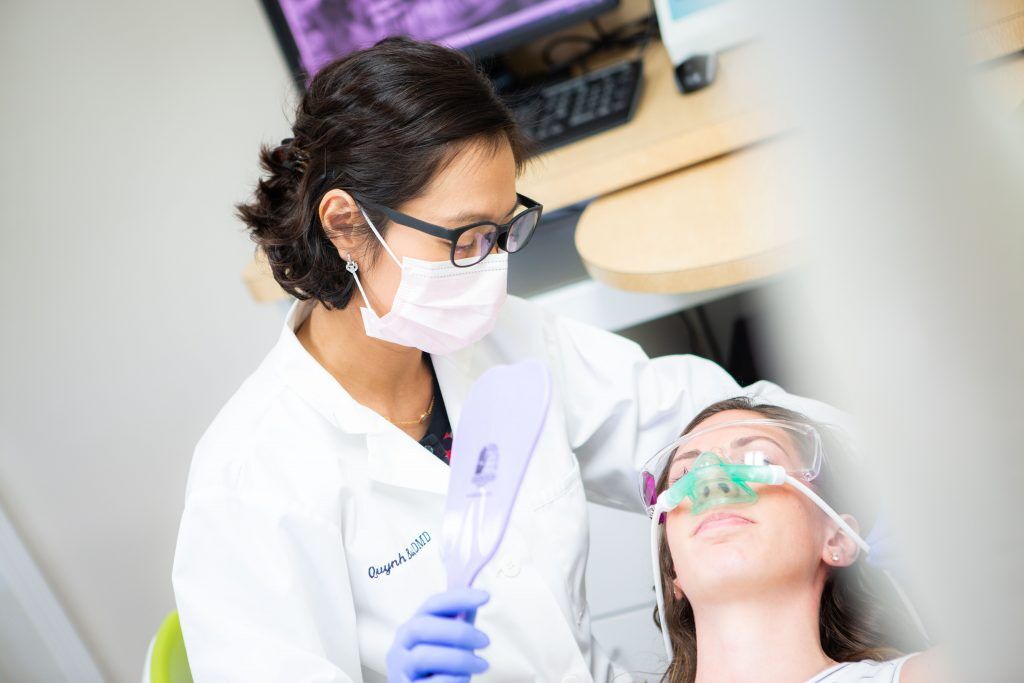 Some dental work can be overwhelming and a bit intimidating, even for our adult patients. That's why our entire team takes special care in talking through each type of procedure and the necessary time to answer each question the patient may have.
Nitrous oxide sedation (or laughing gas, a name that usually puts our patients at ease right away), is a safe and effective way to experience the highest level of comfort during what might feel like an intimidating or lengthy procedure.
About Nitrous Oxide (Laughing Gas) Sedation
In sedation dentistry, nitrous oxide (laughing gas) is mixed with oxygen and inhaled through a small mask placed over the patient's nose. The dentist controls the amount of sedation being given throughout the procedure and the effects wear off quickly after the sedation mask is removed.
Contrary to being "put to sleep", patients are actually sedated just enough to achieve a level of comfort and calmness that helps ensure their safety during the procedure.
Call us at (781) 438-0345
to schedule an appointment with your Stoneham, MA family dentist for kids and adults!
Frequently Asked Questions:
Why are Patients Given Nitrous Oxide Sedation?
To ensure our patients are comfortable and as anxiety-free as possible! Particularly with restorative dentistry procedures, a calm, still patient can help ensure the procedure goes smoothly, more quickly, and safely.
Why are Patients Given Oxygen After Nitrous Oxide Sedation?
It is common to administer 100% oxygen to patients once they are no longer breathing in nitrous oxide. The oxygen therapy eliminates any lingering nitrous oxide in the lungs, while helping patients become more alert. The oxygen therapy also prevents headaches, which can sometimes be caused by nitrous oxide.
Can you Eat Before Receiving Nitrous Oxide Sedation?
If you know that you are going to be receiving nitrous oxide you can feel free to have a light meal a few hours before treatment. However, some patients find they will become nauseous as a result of the nitrous oxide. In these cases, we advise to avoid eating too much food before treatment, so you don't become sick. If you or your child has never had nitrous oxide before, we recommend they refrain from eating prior to treatment until you know if it will make you feel nauseous
Is There Anyone Who Should Not Receive Nitrous Oxide Sedation?
Although nitrous oxide is safe for most people, we are always sure to review your health history before proceeding with treatment under nitrous oxide. Typically, nitrous oxide is not recommended for women in their first trimester of pregnancy. Also, the use of nitrous oxide is generally contraindicated for patients who may have: COPD, methylenetetrahydrofolate reductase deficiency, cobalamin deficiency, or a history of substance abuse.
Here's what our patients are saying ...